NA's Ethan Maenza Named Athlete of the Week by Varsity Views
Congratulations to North Allegheny senior quarterback Ethan Maenza on being named the Athlete of the Week by Varsity Views. Maenza had 23 carries for 219 yards and three touchdowns in a 22-15 win over Mt. Lebanon on Friday, September 30.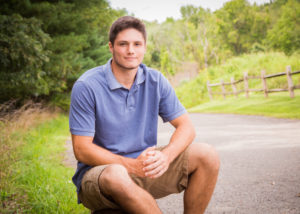 This has a been a season of well-deserved recognition for Maenza. Earlier in the season, Maenza received the Baierl Scholar Athlete of the Week Award on September 6. Maenza is a two-way star for the North Allegheny football team as a quarterback and defensive back. Last season he had over 1,700 total yards and 15 touchdowns, being named one of the Pittsburgh North Fabulous 22. Maenza is a team captain this season and has been a Light of Life volunteer since 2013, as well as a volunteer for Animal Friends. Maenza has always been recognized as a leader, both on and off the field. Maenza is a member of the National Honor Socierty and maintains a 4.43 GPA.